By: Gisele Greaux
Our first full day in St. Petersburg was just exhilarating. We got to take a city tour with our own personal tour guide named Galina. She has a love for the history of St. Petersburg (in fact she never studied history in school, she was once a hydraulics engineer for the Russian military) and is very opinionated on the affairs of the country. She loves sharing her knowledge with us and to be honest, there's so much history and culture to learn that she sort of bludgeons us with facts. My brain hurts every day but it's so worth it.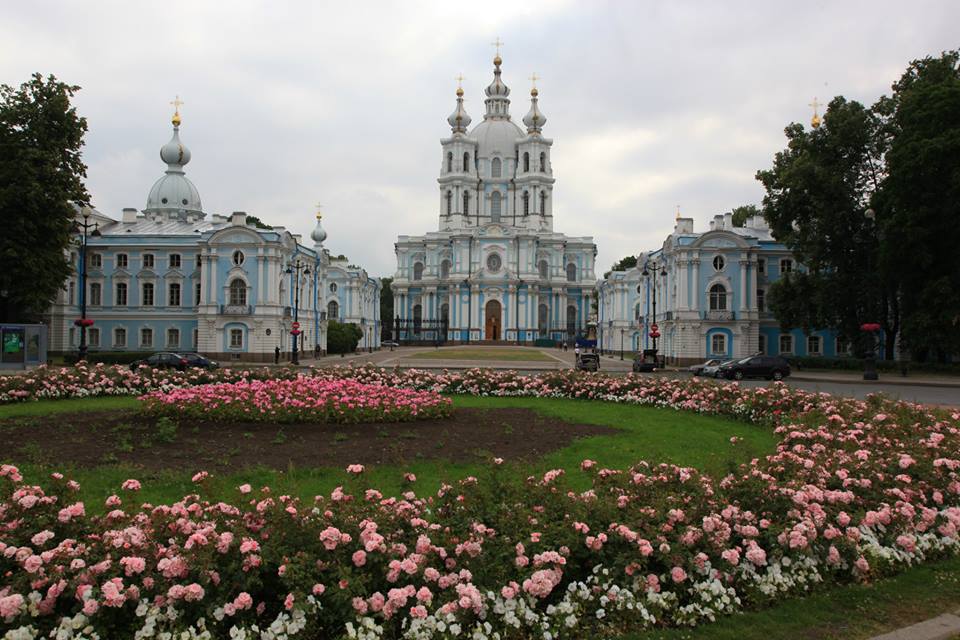 Our first stop was the Smolny convent, a cathedral named after the tar yards that it was built on. I thought that it was adorable with its little cherub moldings and blue painted exterior along with the flowers and cobblestone walkways surrounding it. Our second stop blew the Smolny convent away, though. The Cathedral of our Savior on Spilled Blood has the colored, twisty onion domes that most people associate with Russian architecture and is beautiful from the outside and even more so from the inside. It was built on the spot where Alexander II was fatally wounded and is a symbol of repentance of the Russian people. The most interesting thing about the cathedral is that it's not a traditional Russian Orthodox Church. In traditional churches, people enter from the west and move eastwards but due to it's location by a river (west of the cathedral), people enter from the north. It has a heavy vedic influence, which was considered odd because Russia was trying to move away from its roots at the time. There are decorations covering every inch of the cathedral and all the walls have depictions of bible stories (even on the ceilings and in the domes) starting with Old Testament stories by the entrance, ending with the New Testament towards the altar. It's definitely worth seeing.
Our third stop was Peter and Paul's Fortress on Hare Island. You have to cross a bridge to get to the island and as you pass the bridge, there is a little rabbit statue by the water that people throw coins at in attempts to land their coin on the statue base. There's also a little beach area and grassy part that sunbathers lay out (FYI: Russian men like to wear speedos. It's uhm…yeah) then you enter the fortress and can walk around. It was never used as an actual fortress but as a prison instead (Dostoyevsky was imprisoned there at one point), and there's a cathedral that holds the tombs of many of the tzars and tzarinas. The cathedral is gorgeous from the outside with its long golden spire and inside it is very Westernized. I personally wasn't too impressed by the inside however it is pretty cool to see the tombs of royalty.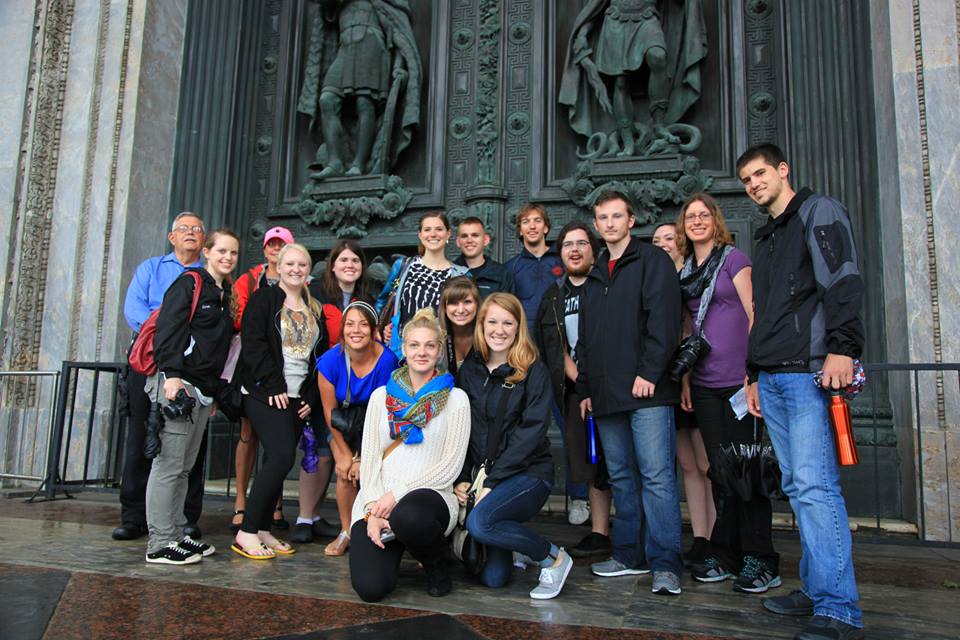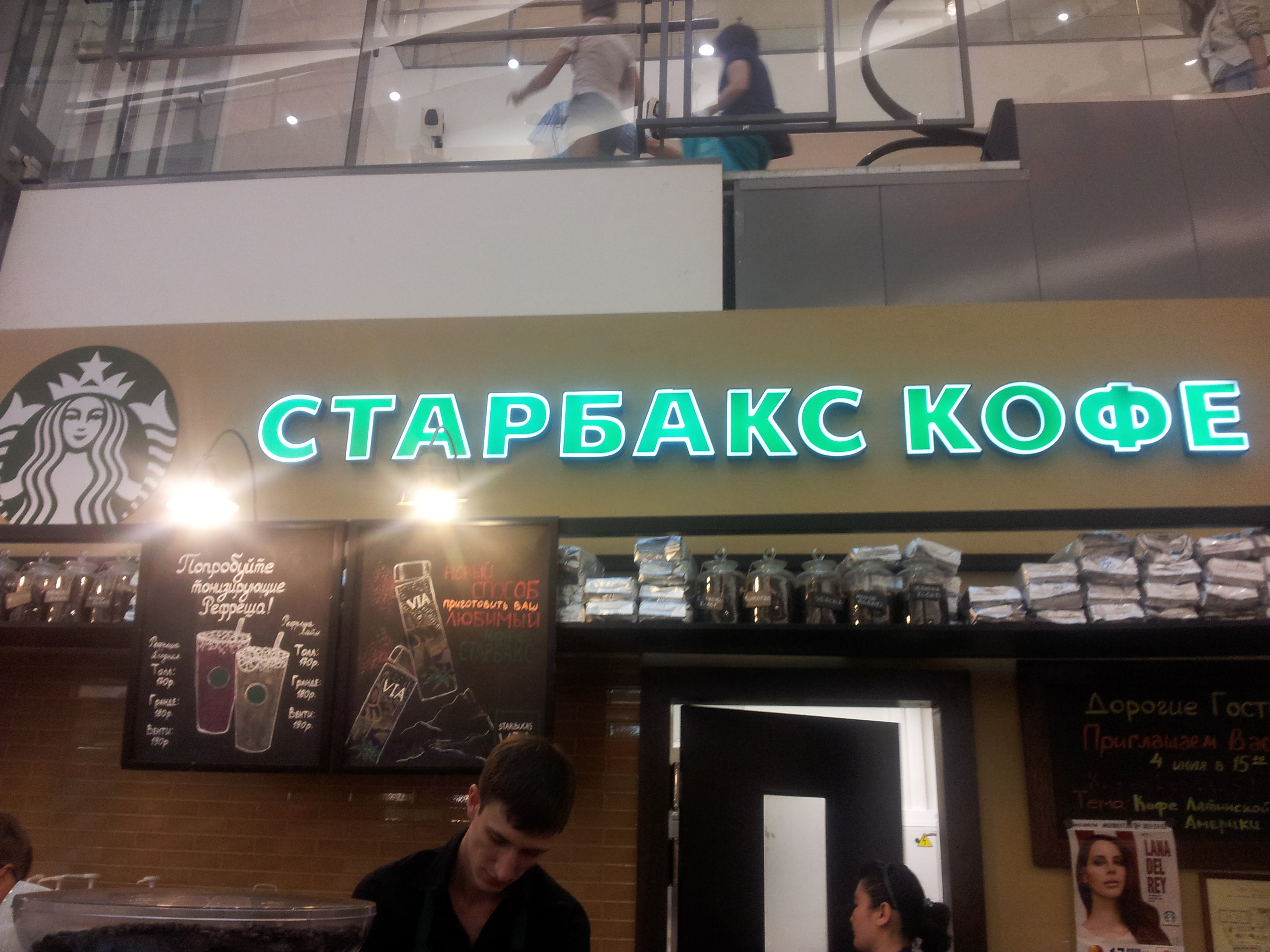 After our tour we went to have dinner a restaurant called Mosqueba (Moscow restaurant). We sat on the rooftop terrace of a mall and had delicious salyanka soup (meat and veggies) and a cheese bread as an appetizer, a very flavorful chicken kabob with baked potatoes as our main entree, and lime sherbet as dessert. It was very relaxing and we met some of the Russian tutors who are supposed to be around to help us out. I also came across Starbucks and got myself a mocha frapp. I love how they spelled my name out on the cup and I have to admit, it was much creamier and richer than the Starbucks in Valdosta.
We did a few other tours such as a canal boat ride (St. Petersburg has rivers and canals everywhere–it's known as the Venice of the North) and Yusopov Palace (where Rasputin was killed), but nothing so far has struck me as much as Saint Isaac's Cathedral did. From the outside it looks large and regal with its golden dome, but once I stepped inside I was breathless and overwhelmed by its beauty–at some point I had tears in my eyes. There was not a spot in the church that wasn't covered in some piece of art, whether it were a mosaic or a painting. Actually, the mosaics were so well-done that they looked like paintings because they all had shading and depth, it was just priceless. I really can't describe it perfectly.
St. Petersburg is just beautiful and I love the fact that my roommate and suitemate are always willing to hop on the Metro to explore with me. We've gone downtown and randomly explored churches and painting markets and really, it's been wonderful so far. I can't wait for our other adventures!