by LaShawn Oglesby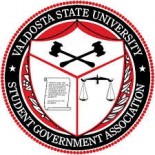 SGA discussed everything from local philanthropy goals to ceremonial dinners and brunches at its Monday night meeting.
The student philanthropy committee will be setting up a student philanthropy fund.
"It's basically what alumni relations does when they raise money…they get money from the alumni, but we will cater to the students," SGA Comptroller Tamelia Hall said.
In future meetings, the committee will discuss three short-term goals and one long-term goal.
They are not final, but the long term goal is to help decorate the new Valdosta High School stadium. The three short-term goals will involve what to do with Ashley Cinemas or any building that's not in use and possible changes around campus.
SGA also approved a proposal from FBLA, Enactus and BAYBS. The proposal sought a co-sponsorship from SGA for a three-day event named "Act Like a Lady, Think Like a Boss." SGA will donate $450 for the organization's Sunday Big Hat Brunch.
In addition, SGA is helping to coordinate an upcoming dinner with VSU. The dinner is for a scholarship that was created last year in honor of VSU's first two black students, Drewnell Thomas and Robert Pierce. Thomas and Pierce became students at VSU in 1963-4.
The scholarship, named the Thomas-Pierce Scholarship Gala, helps first generation college students. To be eligible for the scholarship, students must have and keep a 3.0 GPA and stay in good academic standing.
Tickets for the dinner will go on sale Feb. 10 and will be $20 for students and $30 for non-students. The dinner will be Feb. 24 and will take place in the Student Union Ballroom.
Relay for Life's Jump Start meeting on Jan. 22 was also announced. There is no set date for the Relay for Life event, but the theme of superheroes has been chosen. The dates for future Relay for Life meetings are Feb. 12, March 12 and April 2.