by John Preer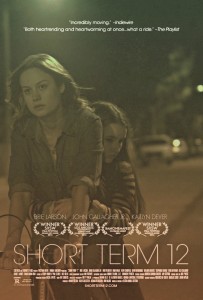 Drama – Short Term 12 (2013)
This week's drama title is an award winning independent film by director Destin Daniel Cretton. The film centers on a supervisor for a group home of at-risk teens. Brie Larson portrays the main character, Grace, a dedicated caregiver who struggles with juggling her own personal shortcomings and the troubled teens in her care. The film is shot beautifully and the acting is on the right side of good enough. The movie delves into the world of teens that have become wards of the state. An interesting dichotomy is set up between Marcus, an 18-year-old African American male played by Keith Stanfield, and Jayden from an abusive home.
The comic relief for this week is a bit morbid, but still funny. The story begins on top of a skyscraper in London. A famous actor has dragged a ladder up to the roof in order to jump off. Just before he takes the leap he realizes that he is not the only with the idea. Three other depraved souls are on top of the building poised to jump. Instead of ending it, the four decide to postpone their suicide until Valentine's Day. The ensuing hilarity is both entertaining and heartwarming. The film is segmented into different background stories that tell why each person decided to commit suicide. Despite a few insensitive jokes about depression and death, the humor is pretty well balanced and rarely steps into the realm of too much.
Sci-Fi – The Machine (2013)
The second British film in this week's line up came as a pleasant surprise. I typically tend to steer clear of independent science fiction films. My main reason for only occasionally giving the genre a chance is the negative effects of budget constrictions. Few have to finesse to balance low-budget special effects with solid acting. "The Machine" accomplishes this balancing act fairly well. The special effects are strategically sprinkled throughout the film and exist as embellishments instead of a replacement for the live action. Despite a relatively weak storyline, this film is still good enough to make it on any sci-fi lovers que.
Animation – A Cat in Paris (2013)
As the only animated film to make it in this week's lineup, "A Cat in Paris" does not disappoint. This French made film follows the story of a burglar and alley cat that team up for various heists and capers. Although some of the storyline and dialogue get a little mature for some audiences, the rudimentary animation keeps the tone of the film light, yet real at the same time. For those not fluent in the French language, the film is also available in an English dubbed edition. This movie is ideal for viewers that want to watch a more sophisticated film, but also have little ones to entertain.