Written by Cynthia Papailler, Staff Writer
On Feb. 2, the Student Recreational Center hosted Canoe Battleship in the newly renovated swimming pool.
President Richard Carvajal participated as one of the players on the faculty team. The objective of the game was to take buckets filled with water and sink the opposing team's canoe.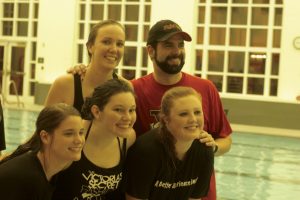 Four teams competed, and the faculty team was the second canoe to sink in the first round. They lost once more in the second round. Canoe Battleship is one of the Student Recreational Center's most popular games.
The Rec also hosts an assortment of other events and lessons for people who like to learn to swim. Visit the Student Recreational Center's website to see upcoming events.