Above: University of Michigan head coach, Jim Harbaugh, in his famous khakis and crewneck outfit at the 'Night of Champions' camp hosted by VSU Football
Written By Joshua Miller, Contributor / Photos by Seth Willard, Media Editor
VSU football kicked off the summer camp season on June 4 with khakis and a crewneck.
More than 700 high school student-athletes attended VSU's 'Night of Champions' football camp, co-hosted by University of Michigan's head coach, Jim Harbaugh.
VSU head coach Kerwin Bell got a chance to reunite with his former Indianapolis Colts teammate and longtime friend Harbaugh to make a truly unique experience for the campers.
"The best part is watching the young guys compete," Harbaugh said. "It's also great to be out here with Kerwin Bell, but no doubt just seeing young guys out here that love football is the best part."
The camp included 40-yard dashes, pro shuttle drills and vertical jumps. Athletes then had to split into groups by position. The vast number of athletes used all three practice fields for position drills, working on technique and fundamentals.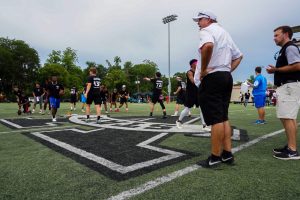 Bell (left) looks on with Sports Information Director Matt Malone (right) as campers perform drills.
VSU football players attended the camp to help the younger athletes through the drills.
"This is probably one of the biggest and most exciting camps for the players," defensive lineman Josh Ealy said. "There are about six college coaches out there."
The hundreds of young athletes left with a memorable experience. They also received plenty of exposure in front of several college coaches.
Along with VSU and Michigan staff, coaches from Alcorn State, Tusculum, Tulane, West Florida and Mercer were assisting with the camp and taking evaluations.
"We're putting all these evaluations and all this data on paper, and we're handing it to all these coaches and different colleges, which is good for these young kids," Bell said about the exposure the athletes were receiving.
Camp sessions will be continuing throughout the summer. After a successful weekend, coach Bell and offensive line coach Jeremy Darveau are prepping for the 'Titletown Showcase' camp. VSU will host the camp on June 7 at 1 p.m.