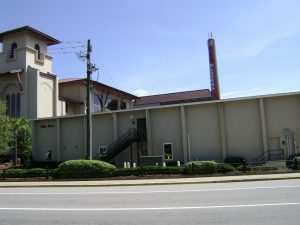 Several divisions of the VSU Internet Technology (IT) department, including technical support, are relocating. They'll move for a short period of time while VSU renovates their home, Pine Hall.
Located south of the Student Union along Oak Street, Pine Hall's first renovations began on June 12 of this year. VSU expects the renovations to last throughout the rest of the fall semester.
"For now, a lot of the offices have been relocated to Powell Hall; however, the move has made space limited for everyone," Chelsea Ramsey, IT student assistant and senior psychology major, said.
Overseeing the $1.27 million project is VSU's own Dan Cody, construction project manager, and Diane Bellflowers, project manager.
"The funding was included in the state legislature's fiscal year 2018 budget that was signed by the governor, as a capital project in addition to the state funds the university receives for operations," Alan Sanderson, Assistant Director of Facilities, said.
The construction business CCH Construction, out of Thomasville, Georgia, is the general contractor over the project. BFB Gladwin Architects, from Valdosta, Georgia, is designing Pine Hall.
"The existing building was very cramped and inefficient and the newly designed space will offer more natural light, soaring ceiling heights and an open work environment," Sanderson said.
In addition to renovations that will update the building according to the rest of campus, VSU will renovate the interior and exterior of the west wing of the building, which is home to Technical Support.
"Some exterior features added will be new windows, a larger glass storefront entry and window sunscreens. These features will help the building blend better with the campus architecture," Sanderson said. "The benefit of the renovation is to improve customer service and access to IT while enhancing the ability of IT to support the university."
Pine hall will reopen during the 2018 spring semester.
Written by Briana Salem, Staff Writer. Photo courtesy of VSU.
For more VSU news, look here