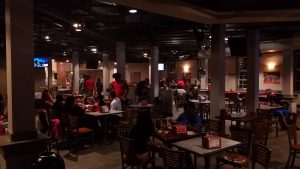 This past summer, $1.5 million in changes were made to the dining services here on campus such as the Blazer Grill switching back to a buffet style, and Palms Dining Hall receiving many changes to its layout and menu.
The main changes to the hall include the expansion of Home Zone, which is the buffet area, by taking away the signature station, adding a sushi bar and adding the rotisserie and carving station.
These major changes were not the only ones made to the hall. Palms also had an HVAC (heating, ventilation and air conditioning) replacement in the North Wing, a partial roof replacement and a dishwasher replacement.
Other changes include the omelet station being moved to its own area to improve efficiency and increase capacity. The deli was relocated to the Farmers Market area to better integrate with other healthy offerings.
"The last changes to the dining hall were made in 2006," Lynn Darsey, assistant director of operations, said. "It was time for change. The changes were in response to student feedback and to enhance the overall dining experience."
Twitter user @TroydellBeckham expressed his concern over having to ask for straws any time he went into Palms through a tweet. VSU's dining's Twitter account, @BlazerDining, took no time to respond.
"Last year we went through 5,000 straws per week in Palms alone," @BlazerDining said. "To be more environmentally aware, we chose to make upon request."
Due to student feedback, SGA and the dining services committee saw the need to change Blazer Sports Grille back to the buffet style. Blazer Sports Grille is also considered a premium dining option and because of that, students are only allowed one plate and one drink per swipe with 99 cents refills.
Once every day, students can take advantage of Which Wich and Chick-fil-A (except Sundays) to use meal exchange, which allows for a choice of an entrée, side and beverage off a special menu.
Since another location was needed for meal exchange, it was extended to Which Wich and Chick-fil-a since the Blazer Sports Grille was converted back into a swipe facility.
It was also decided by the dining services committee that it would be best to open Moe's on Sundays as opposed to Which Wich since Chick-fil-A is closed, and it allows more variety of foods to students.
Darsey said that SGA and the dining services committeewill continue to monitor the feedback to ensurethey are providing a dining experience that meets the needs of allVSU students.
The students are not the only ones enjoying these new changes. Omelet chef Wilma said that she is enjoying having her own station.
"I now make over 212 omelets a day because I am able to provide faster service without competing with others over space," Wilma said.
Written by Andrew Farce, Staff Writer. Photos by Bryce Ethridge.