Publix at 3330 Inner Perimeter Rd. may be out of water, but they aren't out of cakes.
The Publix Bakery is now selling Hurricane Irma cakes for $10.99. Each personal cake is about 5 in. tall. A bakery employee said that these cakes have been popular.
"We've made two or three batches already," the employee said.
The cake is vanilla based and coated with buttercream icing to look like the hurricane. Cakes are topped with objects that could be sucked in to the storm itself. Each cake is decorated and iced differently.
"We have very talented and creative cake decorators that often are moved to create different themes based on what maybe occurring," Dwaine Stevens, Publix media and community relations manager, said. "In this particular instance, Hurricane Irma has been on all of our minds for several days now and this particular associate decided to use their skill to create this tasty item to appeal to their customers. It's all about serving the customer."
Last night, the storm made landfall on the islands of Turks and Caicos. Meteorologists have reduced Irma to a Category 4 hurricane. Irma will travel over open water as it heads for the United States.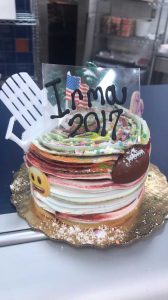 "No, I probably wouldn't buy one," Elizabeth Wilson, a junior marketing major at Georgia Military College, said. "I don't have a reason to buy a hurricane cake, but if I was throwing a party I might."
Rocio Obregon, an international business and marketing major, said, "I feel like its kind of rude that they are trying to make money off of a potential disaster. It's kind of extreme, and they should do something that would make a positive impact.
"I wouldn't buy one because it's basically celebrating something that is very terrible," Zay Hammond, a freshman mass media major, said.  "Why would I buy a cake based off of a Category 5 hurricane? This is bigger than Hurricane Katrina."
"It's kind of disrespectful to everyone losing their property and damage," Bethany Kletcke, a junior sign language major, said.
Every student besides Obregon said they would buy the cake if they were throwing a hurricane party as some students on campus are.
Story and photos by Darla Dunning, Content Editor.