On Sept. 11, 2017 at 5 a.m. the National Weather Service released new predictions that show Hurricane Irma located in Ocala, Florida. This is after the storm passed over Key West, Florida Sunday morning and made landfall as a category 4 hurricane. The hurricane then made landfall in South Florida over Marco Island at 3:35 pm on Monday.
Hurricane Irma made its way up the west coast of Florida moving through Florida cities near Naples, Tampa and Orlando. Deaths are already reported in Key West and other parts of Florida. It is documented that winds in the eye wall of the storm exceeded 130 mph in Naples, Florida on Sunday evening. Currently the hurricane is weakening and has been downsized to a category 1 hurricane. As it makes its way toward Valdosta it will continue to lose strength. The eye wall has already begun to dissipate but still currently features extremely dangerous hurricane force winds.
A Hurricane Warning has gone into effect for Lowndes County, Georgia as of 5:36 p.m. on Sept. 9. Stay tuned for more emergency alerts. Expect hurricane force winds throughout the morning.
The storm is on track to move into Southeast Georgia on early Monday morning. The center region of the category 1 hurricane is predicted to reach Valdosta around 2 p.m. After passing through Valdosta it is predicted that the hurricane will diminish into a tropical storm. Atlanta, Georgia is expected to receive tropical storm winds Monday evening.
In the most recent predictions released by the National Weather Service, the winds in Valdosta are set be hurricane force meaning sustained winds between 75-100 mph near the eye wall. Majority of the wind speeds in Valdosta will be tropical storm force though with wind speeds between 39-74. Winds gusts could still exceed these speeds.
Winds are expected to be a sustaining 30-40 mph at 6 a.m. this morning. These has the potential to increase much higher as the hurricane wall moves closer to Valdosta, Georgia.
Majority of Florida is still experiencing the effects of Hurricane Irma as the back wall moves across the east and west coasts of Florida.
Moody Air Force Base has announced that it will be closed due to Hurricane Irma as well as many other Lowndes County businesses. Many businesses are boarded up to prepare for the sustained hurricane force winds of 50 mph or more. Please stay off of the roads Monday and stay safe in your home throughout the day.
The eastern side of a hurricane tends to feature the most instances of tornadoes. Please be aware of this as you are looking at the forecasted tracks. Valdosta is located on the eastern side of the hurricane in the most recent prediction track. Valdosta residents should anticipate tornadoes and severe winds. Valdosta is expected to be affected by a category 1 Hurricane Irma. The eye wall of a category 1 hurricane is the equivalent to an F1 tornado. Please keep this in mind as you seek shelter in your home.
Power outages are expected and are being reported in some areas already. Please plan accordingly.
The National Weather Service advises you stay in a room that is centralized in your home and that has no windows, on the lowest level of the house, if possible. This is the safest location to be in during times of severe winds. Fill bottles with water in the event that water treatment facilities become inoperable and keep shelf-stable foods near in the event that power is shut off and you are not able to cook or use your fridge. If power does shut off, try to keep your fridge door shut, as this will help to preserve the food that is inside and will keep the cold in for as long as possible. A battery operated emergency radio can be useful too if the power is not working.
Stay safe and try to keep your phones charged going into the storm just in case the power is out for an extended amount of time.
The Spectator will continue to relay all information that is provided by the National Weather Service and local authorities regarding Hurricane Irma.
Follow us on social media for more updates on Hurricane Irma.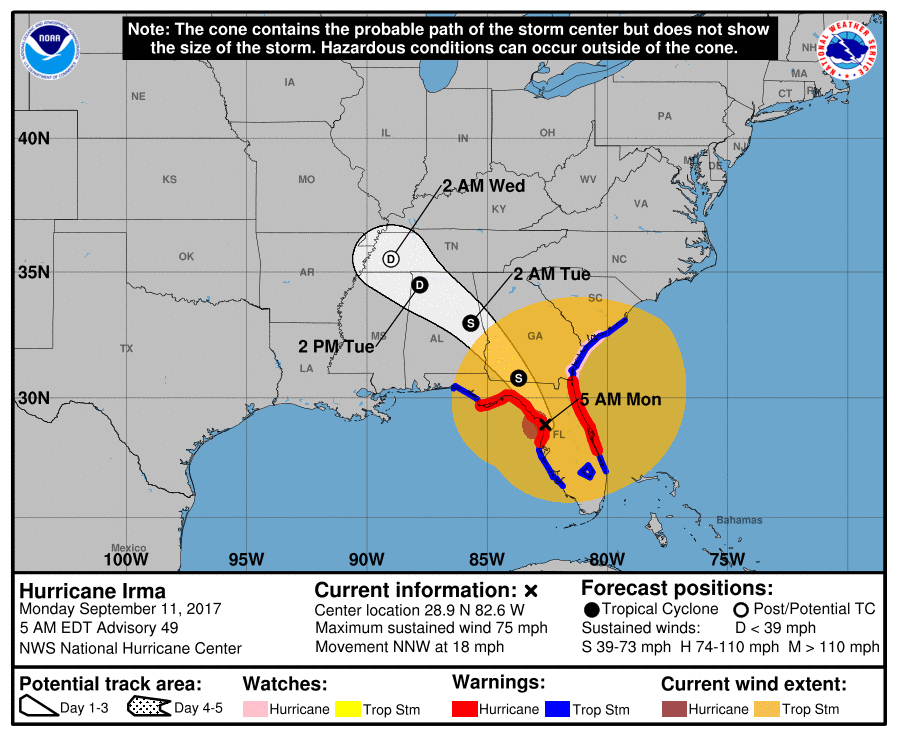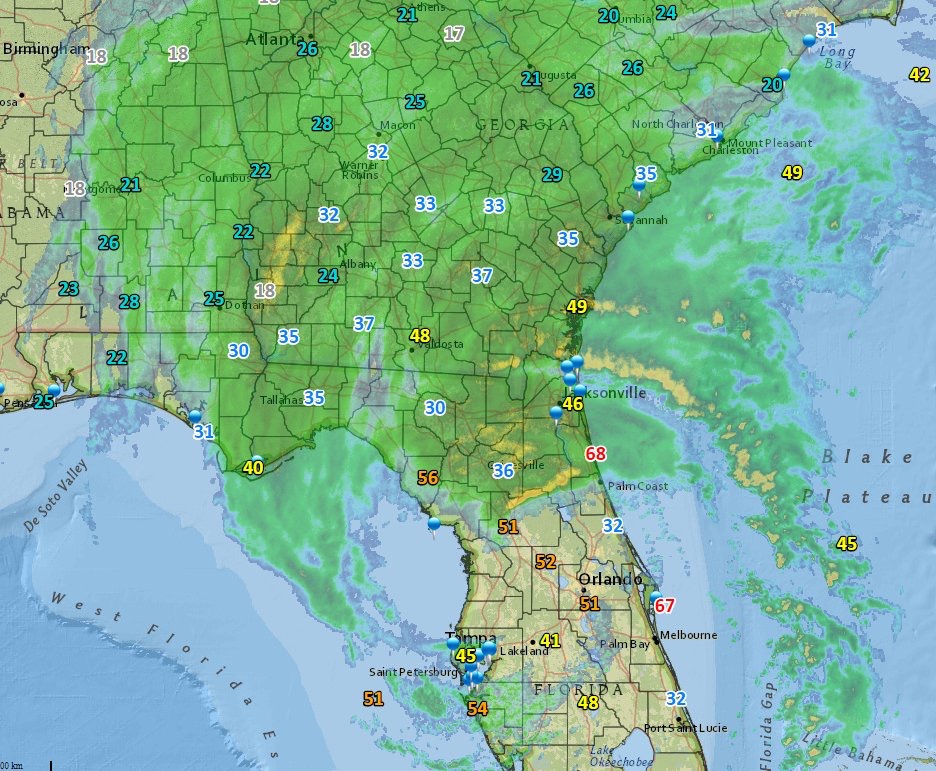 Story by Seth Willard. Photos by the National Weather Service and MyRadar.