VSU Theater will bring "I and You," a heartfelt, touching play based on the endless and unpredictable tribulations of life, to the stage beginning this week.
The play was written by award-winning playwright Lauren Gunderson, an Atlanta native who received her bachelor's degree in English and creative writing from Emory University.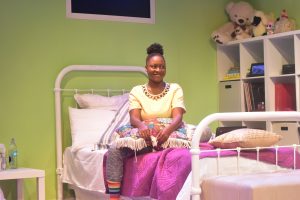 The plot, which takes place over the course of a single day, is centered on two teens, Caroline and Anthony. Caroline is artsy, creative, and quick. Anthony is athletic, popular, shy and patient.
The two characters are from two different worlds, with two different sets of problems. Caroline is sick, to the point where she can't leave her house, so she is homeschooled. She is great at hiding her secret sickness, and doesn't want to show Anthony what's wrong with her.
Anthony, on the other hand, wants to know more about her, and how he can be more creative in his own endeavors. The play opens when Anthony shows up in Caroline's room with the news that the duo has to do an English project based on Walt Whitman's "Leaves of Grass."
Throughout the course of the text in the book, the two begin to realize that they have a lot in common. As the day goes on, the duo let's their guards down, and begins to trust each other.
Eventually, Caroline reveals her serious disease. With that in mind, Anthony begins to ponder the situation. No spoilers here, but the ending is emotional, and will have the audience at the edge of their seat.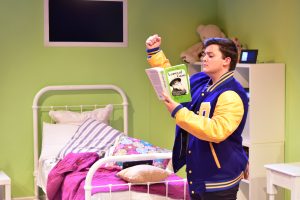 The student actors involved in the production are very enthusiastic about the production.
"I have enjoyed practice so far," said Daniel Lenox, a freshman theatre major who plays the role of Anthony. "I enjoy this work and what I do. I expect the play to be a new ground for me, because I've never done just a two person show before, so I'm hoping that we'll be able to keep the audience engaged, as well as keeping ourselves engaged during the show."
His co-star feels the same way.
"I've enjoyed practice so far. I expect the play to be very powerful," said Mahogany Wesley, another freshman theatre major who takes on the role of Caroline.
"I and You" is suitable for most high school and college students, although it does have some adult language and mature themes. If you are interested in finding out the heartfelt and emotionally gripping ending, the show will be performed Sept. 14-16 and 18-20 at 7:30 p.m., and on Sept. 17 at 3 p.m. If you decide to come out for a performance, be sure not to forget the tissues.
Written by Jacorey Moon, assistant entertainment editor.
For more entertainment stories, look here.