The 2017 Primetime Emmy Award show premiered Sunday, Sept. 17. For many actors, winning the prestigious award cements their place in Hollywood history.
The Emmys were decent this year and displayed the same characteristics as past years. The lineup of shows didn't seem that remarkable or memorable.
The biggest winner of the night, "The Handmaid's Tale," won in almost every drama category, winning five awards overall. The show wasn't as deserving as others.
Donald Glover on the other hand, made Emmy history by winning "Best Director in a Comedy Series" and "Best Actor" in the same category for his TV show, "Atlanta".
The fact that in 2017, critics and reviewers are still saying "The First African-American to win…" is not shocking but disappointing. Why has it taken so long for a person of color to win this accolade?
"Big Little Lies" was another big winner of the night that deserved its recognition. The show is great, exceptional and interesting.
However, the Emmys needs to revamp its program guidelines. The award show is always boring and predictable.
Times are changing, and people want to see more diverse TV shows, movies and screenplays nominated for awards. There's always the same humdrum productions nominated. To the Emmys, evolve before your viewership leaves the industry.
Going in the same direction as the award ceremony, the fashion of the night was lackluster with a few standouts. The only reason why this red carpet seemed lackluster is because of the new trends on the red carpet. Most are trying to bring back the "old Hollywood glamor" style, but they're lacking the "wow" factor that makes them stand out.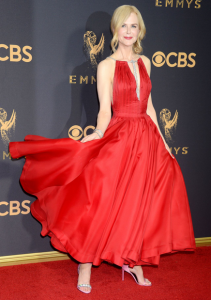 Nicole Kidman's look hit the mark and gave me a "wow" feeling. She embraced the old Hollywood glamor and looked stunning in a red dress by Calvin Klein.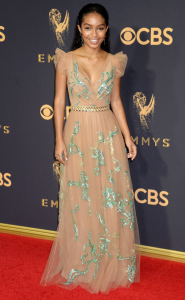 Yara Shahidi of ABC's "Blackish" wore a beautiful Prada sheer gown with silver sequin embroidery. This dress definitely shows she has what it takes to rule the red carpet.
Tessa Thompson's look showed off her wonderful eye for color. Her metallic pleated halter gown by Rosie Assoulin brought a sense of fun to the red carpet. The dress featured red, blue, green and yellow. The gown was simply divine.
Some of Hollywood's leading men came out in their best ensembles as well.
Tituss Burgess, star of "Unbreakable Kenny Schmidt," dazzled the red carpet with a gold tuxedo jacket and perfectly tailored tuxedo pants.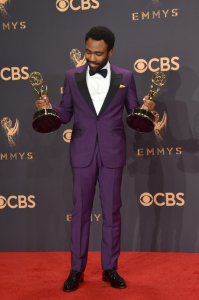 Donald Glover looked dapper in a purple Gucci tux.
Story by JaCorey Moon, Assistant Entertainment Editor. Photos by Celebrity Mafia and WIFR. 
For more opinion stories, look here.