Jayla Flournoy, VSU's new homecoming queen, is ready to make some changes around campus.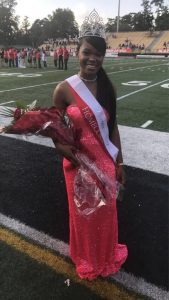 Flournoy is a Thompson, Georgia native who plans to graduate with a degree in communication sciences and disorders. She won't stop there, though. She wants to continue her education to obtain her master's degree in speech pathology.
"The reason I want to become a speech pathologist is because of the way my brother was affected in his speech classes," Flournoy said. "The classes changed his whole personality, and he became a better person. My little brother is six years younger than I am, so I watched him struggle with his speech and become frustrated when he couldn't pronounce words correctly. I was always the one who would try to help him say words correctly. Since then, our relationship has been better than ever."
Flournoy is an active senior on campus. She serves as the corresponding secretary in Alpha Kappa Alpha sorority, and it's a big part of her giving back. She volunteers with S.U.C.C.E.S.S mentors by reading to young kids, is the treasurer of The Black Student League and a VSU ambassador.
Flournoy is also a  member of the National Speech Language Hearing Association, National Society of Leadership and Success, Collegiate Women and Sigma Alpha Chi.
Flournoy has thought about running for homecoming queen for a few semesters now, and it was her sister in A.K.A. who pushed her and supported her throughout the campaign. Flournoy's parents were also a large support system in her life and her campaign.
Her campaign slogan was "Flourish with Flournoy" and "There's always room to G.R.O.W." The slogan "G.R.O.W." means to "Go Recognize Opportunities Within."
"G.R.O.W. means to believe in yourself and in all of your abilities," Flournoy said. "I was shy and didn't talk a lot my freshman year, and I bettered myself by looking within. You have to fix yourself before you fix others, and I want to spread G.R.O.W. to the world."
Flournoy wants to do more for her community by expanding G.R.O.W to the population.
"Eventually, I would like to start a non-profit organization back home to help benefit young girls with G.R.O.W.," Flournoy said. "I want to help girls get a handle on high school and college."
Currently, Flournoy wants to bring a new spirit to the student body as homecoming queen.
"As King and Queen, we want to get more people out to sporting events and start more inclusive activities so that everyone will come together," Flournoy said. "I have always heard that we need to improve and as queen, I feel I can be that person to help. I want to be the change."
Noah Stephens, a friend of Flournoy, believes in her determination.
"Jayla gets anything done that she says she will," Stephens said. "She said she was going to be an AKA. Jayla said she was going to be in all these clubs, and she said she was going to be homecoming queen."
He also thinks of her as selfless, authentic and a caring person.
"Jayla would give the shirt off her back even if she didn't know you," Stephens said. "She never talks bad about anyone, and she is always very genuine person."
Story and photos by Bryce Decker, Staff Writer.
For more Campus Life stories, click here.