Hosted by The Office of Student Diversity and Inclusion on Aug. 19, the Multicultural Extravaganza highlighted and exposed a wide range of cultures and traditions to a vast range of students on campus.
Students who attended the event had an inside look at the cultural differences amongst one another. They were able to unite and learn about various cultures and traditions.
The event had a wide range of activities. From the mobile zipline to receiving a balloon sculpture, there was something for everyone!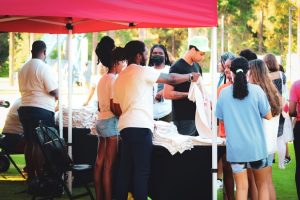 Attendees were checked in and given complimentary t-shirts.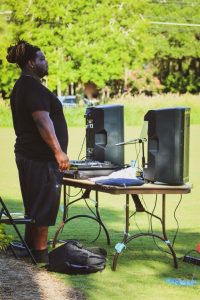 The Office of Student Diversity and Inclusion invited a DJ to provide guests with the best hits and a variety of songs. They catered to many different cultures and backgrounds.
A balloon sculptor was there to tend to the inner child in everyone. The sculptures ranged from zoo animals to dainty flowers, and not a single person who left with one was disappointed.
For those seeking a thrill, a mobile zipline offered students a quick adrenaline rush.
Orlando Taekwondo and Kung Fu put on a Chinese cultural lion show, where President Carvajal was pulled in as a volunteer.
Onlookers are amazed at the strength and power of the members in the lion show. Seen in far right photo, the baseman is holding another member on his shoulders while students in the background stand in amazement.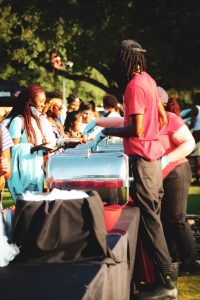 VSU catered food for this event. From traditional American food to Chinese cuisine, everyone lined up for a plate.
The Multicultural Extravaganza offered plenty of entertainment, both from volunteers and those in attendance. People of all dance backgrounds and abilities grooved to the music provided by the DJ.
Playing with fire: a man showcased his zest for fire by showing off some hand moves with a baton lit on fire. He then "ignited" the crowd with his ability to seemingly scorch his tongue without pain.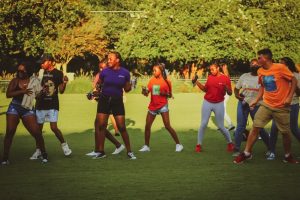 People gathered in the middle of the front lawn to form a line dance group. Fun was had by all thanks to the amazing music choices provided by the DJ.
A group of students pose with stilt walker, Kristen Siech, who was there to represent Irish culture.
No matter their background, everyone gathered to celebrate the wide range of cultures not only on campus, but around the world.
Written by Meghan Hicks, staff reporter. Photos courtesy of Meghan Hicks.