Following a progressive offseason, the VSU cross-country team is ready to come out of the gate strong.
This season, VSU's cross-country team will have the luxury of returning runners making up most of the men and women rosters.
The teams will feature a total of 14 familiar faces under head coach Todd Smoot, including both of his team captains from last season.
"The key is that we had a very good spring and summer," Smoot said. "We also have seniors looking to get it done. We are going to upset a lot of teams in the Gulf South Conference. With the way that they have gelled and the way they work, they are going to ruin a number of team's goals."
Last year the women Blazers placed fifth in the Gulf South Conference Championship.  Jacinda Miller is the returning captain for the women's cross-country team, and this will be her senior season.
"We only have eight girls this year, but I think we'll still do well considering we're all growing together," Miller said. "The pack has tightened. We should place higher in conference this season."
Miller's fellow senior running mates, Tyra Holloway and Meghan McShea, both showed more improvement over spring training.
Holloway broke two school records while McShea broke one of Holloway's school records, perhaps prepping for more All-GSC team honors.
The men's cross-country team is led by senior Connor Dalrymple and his goal is to have the best men's team finish he's had since attending VSU.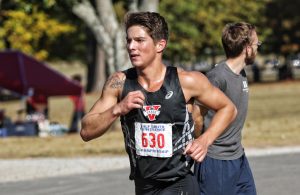 "Last year our team was really, really young, but we built on from that and the year before that," Dalrymple said. "I think we have a good chance at getting to the highest team finish since I've been here."
The new season brings an opportunity at redemption for Smoot, who has been the head coach since 2015.
"I ill-prepared them for the conference meets," Smoot said. "They did not run to their potential due to poor coaching decisions. With the way they have worked since, they have plans on being farther up."
Cross-country will have their first competition when they host the VSU Border Clash at Freedom Park on Friday, Sept. 1 at 6:15 p.m.
Written by Joshua Miller, Staff Writer. Photos courtesy of VSU.