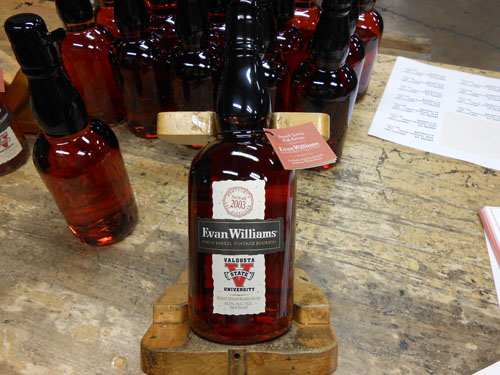 Written by: Allison Ericson/Photo contributed by: Mike Smith
Members of Blazer Nation may soon be able to see their beloved VSU logo emblazoned upon a bottle in their own personal liquor cabinet.
Mike Smith, VSU alumni and owner of Smitty's Package Store, will be selling a VSU-labeled special edition bottle of Evan Williams bourbon.
"I'm giving all the profit back to the VSU foundation," Smith said. "I played baseball for the school, I'm on a lot of VSU boards and I graduated from VSU. I love the school, so I wanted to do this more as a commemorative marketing, cool thing than really try to make any money."
A little more than 200 bottles are expected to hit Smitty's shelves within the next two weeks.
For only $21.99 VSU members can purchase their very own bottle.
"A lot of bourbon companies are doing single-barrel programs now but we are the first to use Evan Williams and single barrels south of Atlanta," Smith said. "No one has jumped on Evan Williams yet. A lot of people have done Jack Daniels and some other brands but we're the first to put a collegiate logo on a bottle of Evan Williams."
After getting permission from the VSU president, vice president and athletic director, Smith bought a ticket to Louisville, Ken. where he hand-picked and tasted VSU's very own single-barrel bourbon.
Smith selected a 10-year-old, 86-proof Evan Williams whiskey, which will be bottled and stamped with VSU's emblem and hand dipped with a wax seal.
"I've tasted it, it was really clean and smooth tasting, it didn't have the burn a lot of caramel, oaky flavors so I think it's a cool thing … it's a 10-year-old barrel of whiskey. I mean a lot of bourbons are 4-years-old, maybe 8 (years old)," Smith said.
Smith is hoping to donate $1,000 and the empty bourbon barrel to VSU charities or in an auction.
"I love VSU, I love the V-State logo," Smith said. "I mean when they changed the logo Coach Hatcher drew that on a napkin one day and they just started using it for football and now it's huge."
Smitty's will not be taking pre orders due to the amount of people interested.
With a little over 200 bottles, they're expected to sell in less than a week.
Smith hopes to have the bottles before VSU's next home football game.
"I'd really be surprised if I don't sell all of them in a week," Smith said. "When you add up coaches, athletes, students and alumni we may do it again."