Written by: Kayla Stroud, Web Editor
In "Well, THIS Is Embarrassing" News of the Day: Diddy arrested for fight involving college football coach
According to a UCLA police report, Sean Combs aka Puffy Daddy aka Diddy aka Puff Man was arrested on UCLA campus Sunday afternoon for attacking UCLA assistant strength and conditioning coach, Sal Alosi, with a kettlebell. Yes, that's correct, a KETTLEBELL.
The UCPD charged him of three counts of assault with a deadly weapon, one count of making terrorist threats and another count of battery.
While there are conflicting reports over the incident at the moment, TMZ reports that the altercation came about during a workout session. Diddy had received word that Alosi was being too "harsh" on his son, Justin Combs, who plays defensive back for the Bruins.
Puff, it's just football. And he's in college. I doubt the kid wants his daddy to come talk some "sense" to his coach.
Diddy is then said to have waltzed into Alosi's on-campus office that following day to confront the coach and things went crazy. Afterwards, Diddy was arrested—and later released—with a $50K bond.
Diddy claims self-defense while the coach claims otherwise.
You can't make this stuff up folks. Ridiculous.
Taylor Swift and Apple Faceoff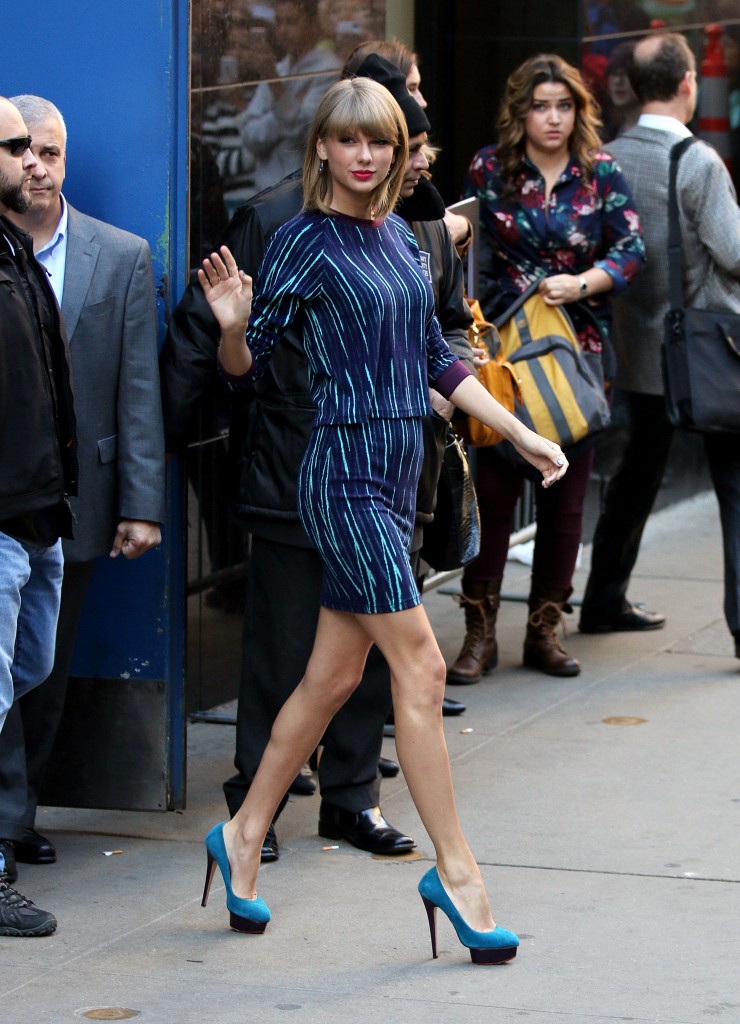 It's been quite the week for singer Taylor Swift.
First, she went after Apple for not paying royalties to artists during the three month free trial entry period for Apple's new streaming service. (Curious if she, herself, wrote the 500 word Tumblr essay or if she had some "lucky" intern slave over their laptop for a couple hours.)
Then, immediately afterwards, Apple caved and pretty much said, "Sorry, for we have forsaken you, Sire Swift. Accept our apologies," and announced that they WILL give out royalties.
Artists' around the globe rejoice in the name of Taylor Swift. Which, I'm sure, boosted her already inflated ego. (Can't even blame her on that. I'd have a huge ego too if I had the money that she does).
Then, photographer Jason Sheldon, spoke out against Swift's note, calling her a hypocrite. Citing Swift's own concert photo policy as an example that she doesn't "practice what she preached"
And now, according to DailyMail, Apple is under investigation for possibly pressuring Swift and others into leaving Spotify.
Crazy.
My opinion on the matter? I don't even care. They're all rich. I think they'll survive.
*pullsupeveningcommuteSpotifyplaylist*
Paris Hilton's Brother Breaks Into Ex-Girlfriend's House

According to TMZ, Paris Hilton's baby brother, Conrad, was arrested Monday for breaking into his ex-girlfriend's, Hunter Salomon, house.
Need to know the creepy connection between the two? Conrad's sister Paris made a sex tape (yes, THAT sex tape) with Rick Salomon, who just so happens to be Hunter's father. Weird.
Salomon and Hilton have been separated for three years. But Hilton has been said to have been threating to kill himself over their failed relationship and became scarily obsessive, leading Salomon to file a restraining order against the socialite.
This news comes four months shy of yet another incident involving Hilton. He had a meltdown that lasted for an entire 10 hour flight where became hostile and threatened flight attendants. He was arrested and charged with assault.