Written by Michaela Leung, Web/Entertainment Editor
A student was served an undercooked chicken cutlet at Palms Dining Hall on Feb. 7.
"Something told me to rip it before I ate it. I noticed a part of it was raw," said Silas Osagiemen David, sophomore, political science major.
After David noticed part of his meal was raw, he showed it to two other students at a neighboring table and they all agreed the food was undercooked. When he went alert the Palms employee who served him, the chicken had already been disposed of.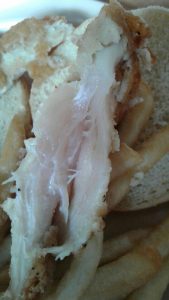 David then posted in the "Valdosta State University Class of 2019" Facebook group. The post received a lot of feedback from students saying they experienced similar situations and began to voice their grievances.
"To be honest, I posted it out of frustration. I've been working with them [Aramark] to voice concerns of students and I was frustrated," David said.
Due to David being a member of SGA, he often works closely with Aramark.
"Looking back, I wouldn't have posted on social media in risk of fracturing a working relationship," he said.
Randy Griffin, Resident District Manager of Aramark released a statement in response:
"Thank you for the opportunity to respond to the recent incident with the undercooked chicken breast. This was an isolated incident that was actually recognized and taken care of immediately. The product was removed from the serving line and discarded. The health inspector visited The Palms that same day and determined this was an isolated mistake and found no other issues with this particular incident or product. We welcome and encourage all feedback, suggestions and comments from our guests. Any time a guest has an issue with any product or service provided we encourage them to find a supervisor or member of our management team to address the issue. We appreciate all feedback as it helps us get better and continue to provide the best product quality and customer service possible."
The Spectator will continue providing updates on the situation.