Leaving campus to grab lunch brings obstacles such as losing a prime parking spot and rushing through a meal without tasting it. VSU though has several popular eateries on campus to save students from leaving campus for a quick meal.
"On average the Student Union is serving 3,000 people per day at Moes, Chick-fil-A, Starbucks and Which Wich," Lynn Darsey, assistant director of dining operations and auxiliary services, said.
Because of that number, some students tend to avoid the busy area.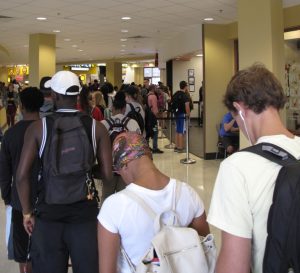 "I still leave campus to get food because I am able to make it through a drive through and back before I can get through a half-hour Chick-Fil-A line at noon," Reed Lott, a senior business major, said.
In an effort to cut down on overcrowding and long lines in dining areas, VSU implemented Tapingo back in 2013. With the help of Aramark, this service has been extended to all locations in the Student Union.
"It is an online ordering app," Darsey said. "You place your order, pay for your food and enter the pick-up line when you arrive at the restaurant. The app gives you an approximate wait time."
On the Tapingo app, students link their student ID and pay for meals with dining dollars and flex.
"Good news is you can always add more dining dollars at any time by visiting blazerdining.com or simply emailing mealplans@valdosta.edu with your student ID number and the desired amount of dining dollars that you would like to add," Darsey said.
[Commentary]
I have this app downloaded and use it to order food with my flex account when I leave class to save as much time as I can. Waiting in long lines to order food is not something I particularly enjoy.
There are also students, myself even, who are unaware of the dining option, Valdosta Bread Company, available in the University Center. Students would like to have it moved closer to main campus because it is a hassle to go the UC for food and make it to main campus on time.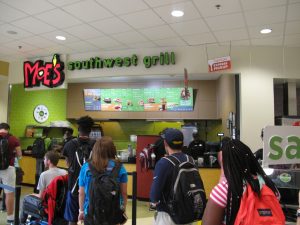 "I was not aware that the UC had any dining options," Victoria Brathwayte, a sophomore engineering major, said. "I actually do not eat on campus. I find it easier to eat elsewhere than make it through the crowds."
"Valdosta Bread Company was added as an option for students attending courses at the UC as well as for staff with offices in the UC," Darsey said. "We continue to ask for student feedback to assist in making adjustments and future plans."
Many students have already voiced their concerns and offered ways to improve the system.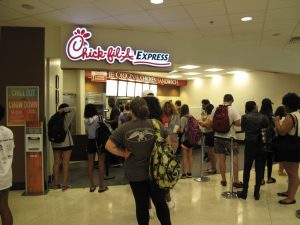 "I eat on campus three out of the five times I'm here a week, and I dread going into the Student Union around noon because I'm always getting my food minutes before class," Kenneth Puryear, a senior biology major, said. "I have to eat after or I'm late getting to class all together."
"I really like the Which Wich ordering system of grabbing a bag and marking what you would like," Colbie Spann, a senior biology major, said. "If the other dining areas had that option, the lines may go just as quickly as Which Wich."
I think the long lines and being in the Student Union at lunch is time consuming. A solution to fix this problem could be additional cash registers at each dining area along with designated waiting areas, so customers won't be in a cluster trying to get their food while others are ordering.
When asked if any complaints had been filed due to long lines or overcrowding in the Student Union, Darsey said, "No complaints have been filed. We are always open to suggestions as well. Feel free to reach out to the Auxiliary Services office or to our dining contact Kate Clubb (pearsall-katherine@aramark.com)."
Story and photos by Jade Manning, staff writer.
For more opinion stories, look here.