So, it's a few days before Halloween and you have just came up with the brilliant idea to throw a last minute Halloween party. But you have no idea what you need, how to decorate, and you're low on cash and time. How will you do it? Well here's your answer, and with these tips you will wow yourself and your guests with your last-minute Halloween party.  
 

Come up with a game plan: 

 

Try to figure out what kind of party you want to throw. Do you want your party super spooky and dark? Or do you want a fun cute party filled with cliches and candy? Depending on what type of party you want, then you can plan your party activities, decorations, and snacks based on your theme. But before you plan your party, figure out what makes a good party. According to mydomaine.com interesting guests, delicious food, and festive decor are some factors that make for a great party. If you want to please your guests, ask them what kind of parties they like attending and implement some of those factors into your own party planning. According to thechive.com, college students love themed parties, so your halloween themed bash will surely be a hit.  
Find some inspiration: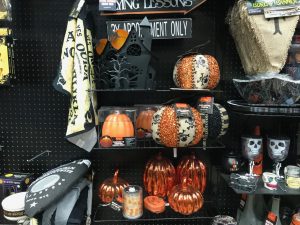 Don't be afraid to Google. If you've figured out your theme but you don't know how to make your vision come to life, utilize apps like Pinterest or Tumblr. You can find plenty of cool Halloween party ideas, themes, and decorating tips on these sites. The apps are free download which makes your planning even better because you're saving money.  
Make a list: 
Before you go out to shop till you drop, make a list of essential things that you're going to need for the party. Make sure you include any snack items or ingredients that you need for your spooky homemade party treats. This can keep you on track when you're spending and you won't get distracted by unnecessary items.  Good places to find decorations are at your local retail stores. Here in Valdosta you can find affordable decorations at Walmart, Target, Dollar Tree, and the popular Spirit Halloween store. Dollar Tree would be your best bet because everything costs only a dollar.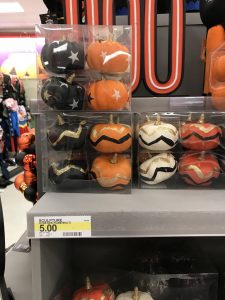 Shop smart and spend less:
Come up with a budget and stick to it. Don't go over the budget no matter what. The best way to save money while shopping for your Halloween decor is to do a little research. Find out which local shops are having sales on Halloween decorations and take advantage of it. Don't be afraid to shop at the dollar store. You're only going to use these decorations for one night so there is no reason to go all out and purchase overly expensive items. Don't be ashamed of using a coupon or two, also. There is nothing wrong with using coupons to save a little money, it will help you in the long run and you might have money left over to buy more decorations. 
Have great entertainment: 
Great ways to entertain your guests are with party games. Depending on how large or small your party is will determine what kind of games you play. If you have a small party, board games are always fun (who doesn't love monopoly?), and you can even get a little more adult by playing drinking games or games like cards against humanity. For larger groups card games line UNO are a good choice or even planning an exciting game of beer pong will work.
Photos and story by Chloe Bradshaw, Staff Writer.
For more entertainment stories, look here.