In October alone, more than five instances of bicycle theft have been reported, with more occurring since, but with the help of the Bicycle Anti-Theft program (B.A.T.), students can potentially reduce the risk of bike theft.
Instances of theft on campus happen year-round; however, fall semester is when UPD notice an increase in bicycle thefts.
According to Patrol and Investigations Lieutenant Wilburn Leschber, the first step in preventing bicycle theft is registering with the B.A.T. program. At no cost, registered students receive a decal for their bicycle that includes a specific identification number.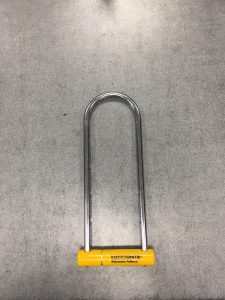 UPD uses this decal to stop bicycles on campus during late hours of the night and early morning to verify ownership. The decal also allows for tracking in case the bicycle is ever stolen or lost.
According to Leschber, it is more likely for someone to steal certain parts rather than the entire bicycle.
"We rarely see cases where the whole bike is stolen," Leschber said. "If someone tries to steal a bike, they take it apart. Students usually report expensive tires and seats taken."
UPD also has information at their office on the best bolts and locks to use to secure bicycles on campus. The best lock that Administrative Sergeant Heidi Bertsch and Leschber recommend is the U-Bolt lock.
"The U-Bolt lock is the best lock to use because it has to be welded off or sawed off to get the bicycle," Leschber said. "No normal person would be able to get that lock off."
Suspects of bicycle theft are tracked down multiple ways by UPD. For instance, all local pawnshops are aware of the B.A.T. program at VSU and know to look out for and report any suspicious activity when someone tries to pawn a bicycle part.
"We do not often catch the suspects of bike theft, but when we do, it is because of the B.A.T. program," Leschber said.
Freshman mass media major, Noah Fritz suggests that more surveillance is needed around bike racks across campus in order to prevent thefts.
"I believe the best way to prevent theft of bikes on this campus would be to have security cameras located near each of the bike racks, giving thefts less incentive to steal," Fritz said.
Students currently using a bicycle on campus or interested in using one, should stop by UPD's office to get registered for the B.A.T. program. This will help prevent chances of their bicycle being stolen.
Written by Callie Pirkle, Staff Writer. Photos by Callie Pirkle and Bryce Ethridge, News Editor.
For more News, click here