February is known as Black History Month. Americans use this month to recognize the achievements and contributions that African-Americans have left on the United States.
Black History Month came about through a "Negro History Week."  According to History.com, Carter G. Woodson and Jesse E. Moorland founded the Association for the Study of Negro Life and History. The ANSLH was dedicated to researching and promoting the achievements made by black Americans and other people of African descent.
They coined the term "Negro History Week" in 1926, and it didn't become Black History Month until 1976.  The month of February was chosen to coordinate with the birthdays of Fredrick Douglass and Abraham Lincoln.
VSU celebrates Black History Month in educational, exemplary and artistic ways.
In the past and present, VSU's Archives Department, stationed in Odum Library, have held art exhibits and special collections in order to commemorate Black History Month.
According to the archives department in February of 2017, they held a special exhibit that showed a collection of images and items that are housed in the Smithsonian Institution's National Museum of African American History and Culture. Features included child-size slave shackles, the clothing worn by Carlotta Walls on her first day at Little Rock Central High School, Chuck Berry's Gibson guitar and the track shoes worn by Olympian Carl Lewis.
The VSU student body has been very vocal about their participation in Black History Month celebrations. This past week the VSU organization, #WeNeedToTalk, discussed Black History Month regarding the purpose and progress of the historical month. Student Organizations have held cookouts on campus as well as had a "Melanin March" last Thursday.
This year, there has been a special collection donated to the VSU Archives Department by the Langdale School of Business at VSU. This collection features Martin Luther King Jr. funeral program, a signed checked from Alex Haley for the TV series "Roots," a book composed of paper doll versions of Martin Luther King Jr. and his family and other artifacts that contribute to the importance of Black History Month.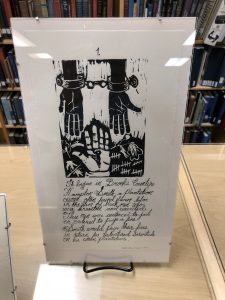 In addition, the VSU Archives has accepted a donated exhibit that chronologizes the horrific lynching of Mary Turner. According to History.com, in 1918, Mary Turner, a wife and mother of two, was a black woman who spoke out in protest against a white mob who killed her husband. It was horrific because she was pregnant at the time, and the white mob lynched her upside down and burned her alive. The mob then cut her open and burned her baby as well. It is said that same night the mob rampaged and lynched 12 people in total. The Turners were murdered following the murder of a white plantation owner by one of his black workers. Apparently, Hazel "Hayes" Turner played a part in the killing. This story is told on wood templates covered in ink. It's located on the fourth floor of the Odum Library in the archives room.
Black History Month is an important month and vital to the identity of America. The meaning behind Black History Month should not be overlooked.
Story and photos by Jacorey Moon, staff writer. 
For more Campus Life stories, click here.