February is Black History Month, and VSU is acknowledging the celebration with multiple events. VSU's own integration history dates to the early 1960s.
On Sept. 8, 1963, Valdosta State College, as it was called at the time, admitted its first two Black students. Drewnell Thomas, 17, and Robert Pierce, 18, were Valdosta residents, who had previously attended segregated schools and met the requirements to attend the college. Pierce had also refused a scholarship to Morehouse College because he felt a change was needed at VSC.
"I believe that we had the field rather well prepared for integration when the opening of the college came," said Dr. James Ralph Thaxton, who was president of VSC at the time.
The new students faced challenges.
"The atmosphere at VSC was quite different from what I had known in high school," Pierce told the Campus Canopy, which was the student newspaper at the time. "I was used to having a lot of friends and participating widely in student affairs."
Sept. 8 has now become a day of celebration here at VSU, referred to as "Day of Diversity" and is a day of unity for the entire campus.
Thomas described her experience differently than Pierce because of her involvement in activities such as the Glee Club. Aurelia Register, who was the third Black student at VSC, joined in 1965 and was also in the Glee Club.
According to the Campus Canopy, her experience was different than Pierce.
"Unlike Pierce [she] had encountered open animosity in students, referring to ugly incidences of name calling from other students," the newspaper reported in 1967.
The Black Student League was formed in 1970, which promotes ideals of respect and encourages students to form an awareness for culture and history. It also was used "to aid and encourage the underprivileged and the oppressed, to attack shame and hypocrisy wherever and whenever it appears," according to the campus yearbook.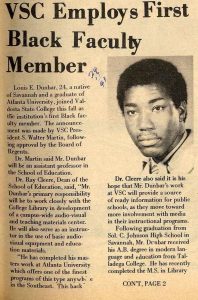 VSC also hired its first African-American faculty member, Louis Danbar, in 1970. Danbar joined the faculty of the School of Education and was only 24 at the time. Later, the first African- American administrator was employed, Arthur L. Hart, in 1974.
In 1973, Joyce Ann Joyce became the first African-American English Instructor, a year after she graduated from VSC in 1972. Joyce had also won a prestigious award, the Powe Hopper Award, which represents a senior who exemplifies high academic achievement and the traditions of VSU.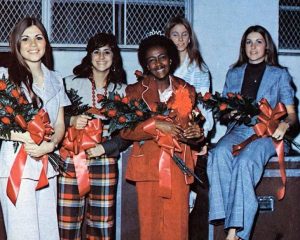 Skip McDonald was the first Black Homecoming queen and won in February of 1974 which forever made history.
In Fall of 2022, 34.7% of students at VSU were Black. That number is decreased from 36.4% from the previous fall semester.
Written by Jenna Arnold, Reporter. Photos Courtesy of VSU.