This semester VSU made the decision to have a one-day move-in on Aug. 10 for all students, new and returning, to attend.  
Move-in for all dorms began at 9 a.m. and was divided by floors. Students on different floors were assigned alternate move-in times to prevent congestion. 
Students were advised to only show up at their designated time in order to check-in and begin moving their things.  
Most students liked the process of moving in and believed that it was a good experience. 
"For a lot of students and parents being there it went very smoothly. I was surprised," Meredith Lucas, a freshman chemistry major, said.  
"Moving in was fine, it was getting to the move-in area that was hard and stressful," Maddison Montgomery a freshman nursing major, said.  
On the other hand, volunteers had a different experience than students moving in. 
"Assuming it would be difficult to get volunteers to commit to three days of move-in, we wanted to shorten the volunteer commitment needed to make it more appealing to more volunteers," Dr. Vincent Miller, vice president of student affairs, said.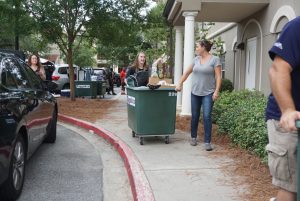 A student and her mom use the taggabox to move her things. Often, move-in day can be long and stressful.
There were 700 people signed up as volunteers, but only 500 came to work the day of move-in.  
"The process went pretty well for the students receiving help, but the volunteers faced some tough conditions," Musiteli Mubuso, a student volunteer, said. "The food came late and volunteers were leaving throughout the whole day." 
Volunteers were having to pick up extra work in order to assist everyone. On his volunteer shift, Mubuso had to work five hours rather than his allotted four-hour shift.  
Although there were a few stressful bumps for volunteers, they kept an upbeat attitude to provide students moving in with the best experience possible. 
"They (the volunteers) were super sweet," said Montgomery. 
"They were really helpful and nice," said Lucas, agreeing to the role volunteers played.  
The students and parents continuously thanked volunteers for their helpfulness, hard work and dedication throughout the day.  
"The only bad part was having to walk from Oak back to the dorms after parking," said Lucas. "There were supposed to be buses busing us back to campus, but they didn't run frequently at all and it was too hot to wait."
Written by Destini Jones, Staff Writer. Photos by Seth Willard.