On Aug. 14, VSU Parking and Transportation implemented a new program called Blazer Safe Ride and also moved the overnight parking area for students in Oak Street Surface Lot to sections D and E.
Blazer Safe Ride is a new service at VSU, powered by SGA and monitored by university police, that has replaced the night shuttle system and runs every day from 11 p.m. to 3 a.m. The program is now featuring golf carts instead of buses.
"Student pick up locations are the overnight parking permitted areas or locations on main campus," Anthony L. Bryant, assistant director of parking and transportation, said. "In the past, our shuttle buses were only able to drop off and pick up at the bus stop locations. The Blazer Safe Ride service is more convenient for students living on campus."
Students seem to be responding well to Blazer Safe Ride and think it was a good addition to VSU.
"The golf carts are a good idea," Elisa Miller, a sophomore exercise physiology major, said.
My experience with Blazer Safe Ride was interesting. Two of my friends and I called to make our reservation but when the shuttle arrived 10 minutes later, there was not enough seats because they had picked up other reservations on the way.
This confusion caused us to wait for the driver to return after dropping off the other students which turned a 10 minute wait into a 20 minute one.
Once we finally boarded, it took seven minutes to get from Centennial Hall to Georgia Hall which is shorter than it would have to walk.
Even with the long wait, I did like the concept of Blazer Safe Ride. An adjustment to the program could be dispatchers asking how many people are on the reservation to avoid not having enough seating.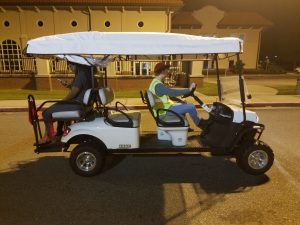 Overnight parking on campus has also changed on the Oak Surface Lot for students.
Although these changes from G and H to D and E were created to give students a closer walk to campus, they still seem to have varying opinions on the change.
Some students feel as though the change wasn't enough and didn't fix the issues with overnight parking.
"I like the change, but at the same time I don't," Miller said. "The closer parking in the Oak lot is great, but if we don't get one of those spaces we still have to park in Sustella Deck."
I do like the change for walking purposes, but I must agree with Miller. The change has moved us closer to campus police, but it's irrelevant if you don't get one of those designated spots in the Oak lot.
The number of available overnight parking spaces on the Oak Street surface lot has increased from 204 to 308 spots since the change, but some students still don't think that's enough parking.
"There aren't even half enough spaces closer to Oak to park overnight," India Jessie, a sophomore exercise physiology major, said.
One issue that students encountered during the change to overnight parking was an increase in parking citations. Most students had no idea that the rules to overnight parking had changed.
"I was not aware of the changes and ended up getting two parking tickets," Miller said.
"They (the changes) weren't clarified which resulted in, not one, but two tickets," Jessie said.
I also received a ticket due to parking in the old overnight parking area and was very unhappy about it, much like other students.
"Many students were under the impression that overnight parking was still permitted in sections G and H," Bryant said. "Campus emails were sent out to all resident students as well as information handed out when they purchased their parking permits."
A lot of students do like the changes to parking and transportation and feel safer walking from their cars at night.
In order to make a reservation with Blazer Safe Ride, you can call university police dispatch at 229-333-7816.
Story and photos by Destini Jones, Staff Writer
For more opinion stories, look here.