On a weeknight the loud music, mesmerizing atmosphere, and the nostalgic 70s dive bar feel will drag you onto Ashley Street Station's (A.S.S) doorstep. With bands playing nightly, you're sure to feel like you're living in an episode of your parents' self-proclaimed, "Glory Days".
Ashley Street Station is notoriously known for appealing to the rock scene. Fret not, musical diversity in Valdosta peaks here. From pop, to rock, to hip-hop, to reggae, this place will suit any music connoisseur's palette. Along with the diverse music, this place appeals to more than just one group of people. Moms, dads, hipsters, college students, motorcycle clubs, and band members alike join in the festivities and linger at Ashley Street Station.
Live music events happen pretty much every day except Wednesday. Not only does this dive bar have live music, but it also has a jukebox that plays anything that you can of. Although A.S.S. is a bar, the minimum entry age is 18.
One of the best things about Ashley Street Station is the atmosphere. It makes the patrons feel like they're in an old episode of "Cheers". Although it's about the music, A.S.S. has pool tables, vintage game machines and some new game machines. Plastered on the walls are posters, signed guitars from special bands that play there, quirky pictures, and doodles from the patrons that visit the eccentric bar.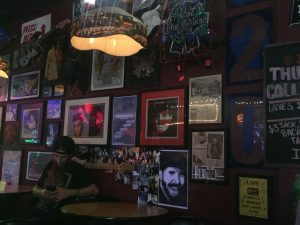 A wall at Ashley Street Station filled with pictures of classic pop and rock artists.
There are multiple parts to this bar, but two main rooms. There's a room for the pool tables, jukebox, and game machines, and there's a room for the live band performances.
If the place becomes too crowded or you just need a breath of fresh air, A.S.S. also has two patios where you can catch your breath before continuing the festivities.
Whenever you're interested in going, Ashley Street Station updates their weekly events on their Facebook page. While on the page, any patron will be able to see what the cover charge is for each night (if one), and what the drink specials are. For instance, this year VSU students and ladies get in for free on Thursdays. Cover charge is also dropped to seven dollars for the whole night.
A.S.S. is one of the most trendy places that the Valdosta area houses. With its diverse patrons and diverse taste, there's no wonder why this place has been open for years. If you are new to the VSU campus or the Valdosta area, this place is a great starting point.
Photos and story by Jacorey Moon, Staff Writer.
For more entertainment stories, look here