Valdosta State has 200+ organizations and student activity groups, but it wasn't until fall 2017 that the Japanese Club emerged.
Made up of a variety of students– sociology majors, art majors, freshman and seniors– Japanese club welcomes all who wish to know more about Japanese culture.
"I was fortunate to study abroad for a semester and I really enjoyed the culture, the language and just being immersed in the culture because in Japan everything is much cleaner and efficient and the food was pretty awesome, so I do want to return to Japan and be an English teacher and that's my ultimate goal." founder and president of Japanese club, Amber York said.
"In 2016, I lived in Japan for about a year and there I actually got to participate in a Japanese Tea Ceremony, and I even went to a Japanese temple once or twice, and that's where I learned Japanese and really got emerged in the culture." member and sociology major, Chafra Mills said.
"Yes, a lot of people often study abroad in a Japanese program and activities."  Japanese language instructor Natsumi Hayashi said.
Last Thursday, the Japanese Club hosted a traditional Japanese Tea Ceremony with special guest Dr. Genzo Tanaka and Mikiko Tanaka.
The first tea ceremony dates back to the 9th century by a Buddhist monk celebrating his return to China.
Over centuries, the tradition has been adapted, but overall upheld.
"This ceremo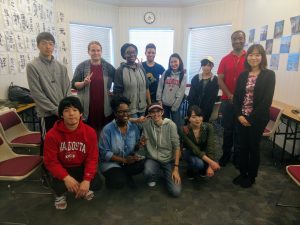 ny represents a celebration of respect and ritual, full of grace and beauty, mindfulness and harmony." Dr. Tanaka said.
Matcha tea and sweet treats such as mochi and rice cakes with red bean paste were served to participants.
"I actually love mochi," Kailey Barnett, sophomore history major said. "at home (in Atlanta), I am close to a lot of Asian food markets where I can purchase a lot of mochi."
"I do drink Japanese tea every day." Hayashi said.
The Tea Ceremony was VSU's first, but the Japanese club looks to hosts more events in the future.
Every Friday at 2:00 p.m. the club holds a "free conversation" in the International Program Center, welcoming international students and others alike to come and learn more about the culture and language.
"I like to have my students come to the free conversation to better their Japanese because sometimes in class, the students don't have enough time to use Japanese and by allowing them to come here and communicate with Japanese students helps everyone communicate better," Hayashi said.
"I think it is important to learn about other people and what they do, instead of just being in my own little bubble and just being open-minded to other people." member Marielle Tribble said.
"What I think is unique, especially to western culture because the general mentality and the way they define things, especially through language shows their view on society, and it is vastly different from the western mentality." Mills said.
Japanese club welcomes all who wish to learn more about Japanese culture.
Story by Hunter Terrell, Social Media Editor. Photos by Hunter Terrell.