On Tuesday, April 11, Campus Activity Board hosted their annual Coffeehouse and Creatives event. This event showcased art forms of all sorts, such as singing, poetry and guitar.
The event was held in the Student Union behind Starbucks. 
A coffee bar was set up just behind the check-in table, and students were able to customize their order of iced coffee with different flavor syrups and coffee creamers.
The Haven, Valdosta's shelter and resource center for sexual assault and domestic violence victims, also had a table at this event, providing information and resources for those who needed it.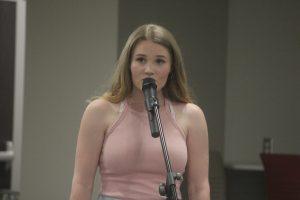 There was a large turnout to the event, and dozens of students gathered to watch their classmates express their creativity.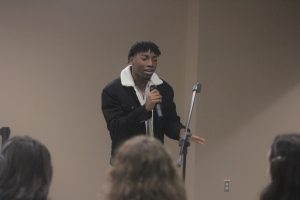 "It's a passion to me," said Zyon McKinnon, a freshman business major and singer at the event.
"Nothing else really matters. When I'm in front of my microphone, I'm sharing my love of music with the world."
Annabelle Wiese, a junior at Lowndes High School, was the opening guitarist.
"Without being able to express yourself, life lacks a lot of creativity," Wiese said. "I think we need creativity to be happy." 
Written by Bailey Wilson. Photos by Bailey Wilson.