This time last year, VSU was sitting at home watching everyone duke it out in the NCAA Division II playoffs.
This year not only are the Blazers in the postseason, but they also get to stay right at home for the first round after earning the No. 3-seed in NCAA Super Region Two.
Awaiting the No. 14 Blazers (10-1, 7-1 Gulf South Conference) is the Limestone Saints (8-3, 8-1 South Atlantic Conference).
Limestone is making their second postseason appearance after starting up their football program in 2014. Meanwhile, the Blazers are making their 19th trip to the playoffs, posting a 29-14 record in their previous 18 appearances. Saturday will be the teams' first meeting on the gridiron.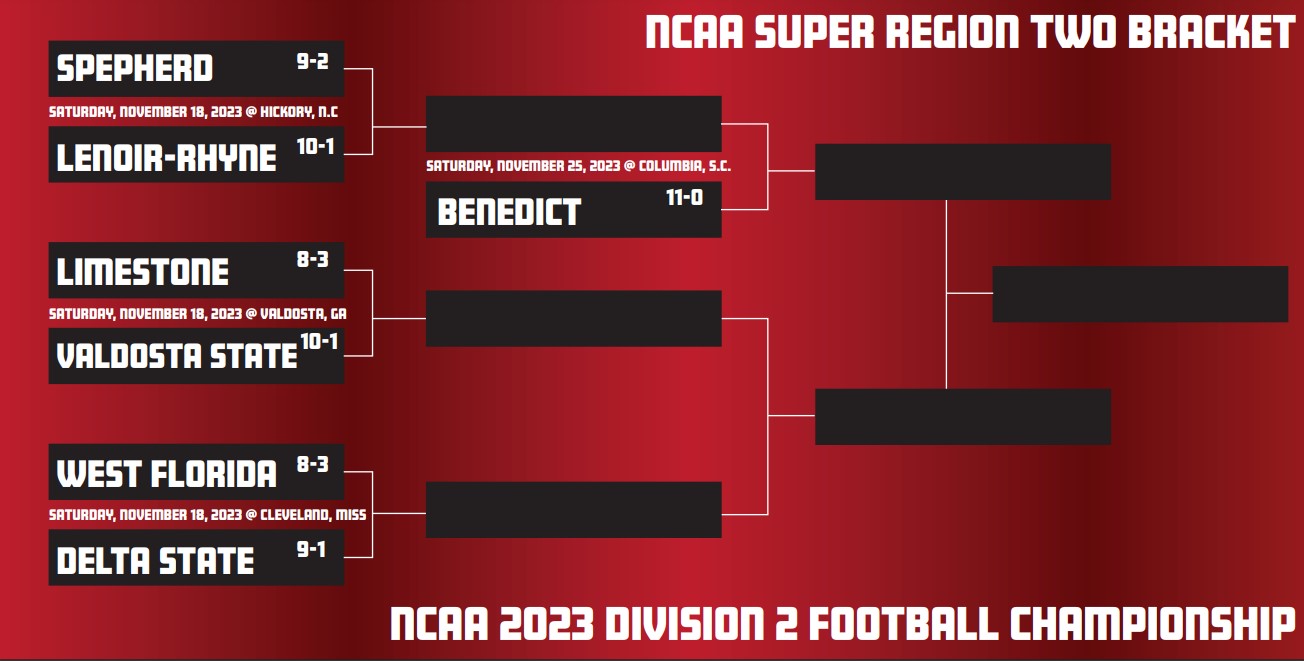 After an eight-week slog through conference play, head coach Tremaine Jackson is happy to see someone not from the GSC on the other sideline.
"I'm really excited to play somebody outside of the Gulf South," Jackson said. "It kind of gets redundant after so long. You play so many of those games. It's just refreshing to get ready and prepare for somebody else that you haven't seen."
Though they aren't in the GSC, Limestone has some familiarity with the GSC. The Saints played two GSC teams — West Georgia and West Alabama — early in the season.
The Saints fell in both of those matchups. Still, Jackson believes it's important to have those two games on tape, even if the Saints have improved since those matchups.
"They are different than they were — you can look at their two deep and tell that — but so are those teams that they played as we played them later on in the season," Jackson said. "It is helpful because you want to see how they fared against competition that you see every week. They should've beat West Georgia to be quite honest. They kind of got behind on some things. West Alabama, the game kind of got away from them late, but they played extremely well, and they fought to the end."
The Saints have been effective on offense, averaging nearly 30 points per game. However, their kicking game has been shaky. Limestone has missed six extra points and is just 5-13 on field goal attempts.
Jackson noted their kicking struggles while also pointing out their aggressive playstyle. The Saints have gone for it on fourth down a whopping 27 times, converting on 12 of them.
"When you cut the tape on, you look for weaknesses. You look to see if people fix their problems, and they have struggled in the kicking game," Jackson said. "The way that they fixed it though is going for it on fourth down offensively. They've got 27 fourth down attempts, which extremely high for what we see normally. When they do line up to kick it, we got to go after it, and we got to try to create some momentum in the kicking game."
Junior quarterback Sammy Edwards will be tasked with picking apart a disruptive Limestone defense. The Saints have 11 interceptions this season and have also given up just 13 passing touchdowns and just over 180 passing yards per game.
There is a level of familiarity with Limestone's defensive players due to recruiting battles between the Blazers and the Saints.
One player in particular that Jackson noted was safety John Gregory. Gregory has two interceptions and ten pass breakups on the season, the latter of which leads all Saints defenders.
"They got a safety, John Gregory, who does a really good job, and we recruited him here," Jackson said. "I knew he would be a good player. He's a Division I transfer, so he's got great ball skills. He can run. He's a good overall safety."
Jackson, for one, is glad to be able to play at least one more game inside Bazemore-Hyder Stadium.
"We had been on the road prior to last week two weeks in a row," Jackson said. "Anytime you get a chance to play a nonconference opponent in a playoff game at home, I think it's really big for our players. It's big for our fans to be able to be there. That environment at Bazemore, if we can get it to like it was the other night, then I think it gives us a real advantage."
Written by Austin Bruce, Co-Editor in Chief. Photo courtesy of Austin Bruce.