Written by John Preer, Editor-in-Chief
The city of Valdosta has made it to the top 100 of a list that not many are proud of.  Valdosta shared this precarious honor with other Georgia cities including Albany, Augusta, Columbus and Macon.  According to the Center for Disease Control, Valdosta comes in at 87 in a list of the top 100 sexually diseased cities in America.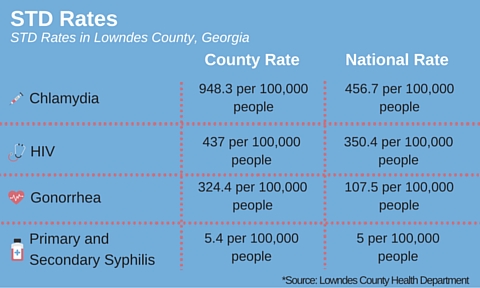 Although these numbers don't reflect VSU's population directly, the fact
that sexually transmitted diseases are prevalent among young adults should alert VSU students.  The rates for chlamydia are nearly double the national rate which is around 456 per 100,000. The rates for HIV and gonorrhea are not as drastic, but still warrant a top spot on the CDC's list.
The high STD rates are being attributed to a lack of education and funding for programs that offer free assistance.  Although poverty is a leading cause for local populations, low use of contraceptives and infrequent health screenings are responsible for STD's among VSU students.
Technology is partly responsible for the high rates as well.  The rise of dating apps has lent to the STD problem, making quick hookups easier and more frequent.  This is the perfect environment for the transmission of disease, because the sex is often unprotected.  All of these numbers can be alarming for good reason, but students should be aware that some of the diseases are preventable with the use of contraceptives, and general sex education.  There are certain practices that students can adopt to help protect themselves against STDs such as frequent testing and monogamous dating.
In addition to things students can do by themselves, VSU's Student Health Center offers free screenings and discounted clinical services for full-time students who have paid the health service fee and hold a VSU ID.  The center also accepts many different types of insurance policies.  The accepted policies and procedures for setting up an appointment can be found on the VSU website.